Stewardship Campaign Resources on CD ROM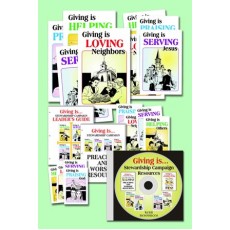 The "Giving Is..." Stewardship Program provides everything you need to organize, promote, and lead your congregation in a creative stewardship campaign. Four weeks of intense promotion, worship focus, and congregational contact focused on raising the budget in a creative four week campaign.

The Leader's Guide

A printable pdf book with complete details on how to organize and lead a successful stewardship campaign in three intensive weeks using the resources on the CD Rom—procedures for setting up committees, doing mailings, training visitors, callers, telephoning, etc. For either traditional calling teams or "saddlebags" type pass-it-on campaigns.

Preaching and Worship Resources

A printable pdf book with four complete sermons, sermon illustrations, four suggested lay stewardship presentations, theme-based children's sermons, liturgical suggestions, prayers—everything to focus four worship services around the four stewardship themes supported by the resources on the CD Rom.

Worship Bulletins

Four standard Bulletin Covers using the theme designs in both black and white and color. Simply insert the designs into whatever software you use to print your bulletins and print them on your inkjet or laser printer for maximum effectiveness and economy.

Theme Posters

Eight Theme Posters (four 11 x 17" and four 8½ x 11") in pdf files ready to click and print your own printer. Post them everywhere in the church as reminders that it is pledge time!

Bulletin Inserts

Four 5½ x 8½" Bulletin Inserts in both black and white and color with the theme designs on one side and poignant theme messages on the other. Files are designed for printing two-up on 8½ x 11" paper for maximum economy.

Table Grace Cards

Grace Cards in both color and black and white featuring the four themes plus prayers to support each week's themes. Files are designed for printing cards four at a time on 8½ x 11" sheets.

Letters and Pledge Cards

Sample Congregational Letters in editible formats ready to print on theme letterheads plus pledge cards for three different waves of pledging during the campaign.

Everything you need for a successful Stewardship Campaign on one CD Rom! Print everything on your own inkjet or laser printer and save.

Availability: Usually ships the next business day.
There are no reviews for this product.
---