First Persons SAMPLE PACKET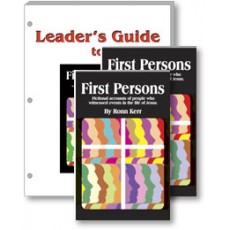 CLICK THE "RELATED PRODUCTS" TAB ABOVE TO SEE ALL OF THE RESOURCES IN THE FIRST PERSONS STUDY

Click here to view or download a sample chapter of the First Persons STUDENT BOOK
Click here to view or download a sample chapter of the First Persons LEADER'S GUIDE
"Our class started with twenty two people and, by the time we finished, we had grown to thirty. This approach generated more interest and discussion than anything else we have done." Rob, Knoxville

"I was leary about how a book of stories could teach the truth of Scripture but it really works. With the excellent leader's material, it really drew the class into the Bible in a powerful new way." Stanley, Colorado Springs

"I have never liked traditional Bible studies very much but this one was special. It made the people of the New Testament come alive more than anything else I have studied." Charlene, New Rochelle

"We ordered both the books and the CD Rom so, as new members joined the class, we just printed off additional chapters to catch them up. Marvelous idea!" Shirley, Rockville

The First Persons Sample Packet contains two copies of the popular First Persons Student Book and one First Persons Leader's Guide for examination by teachers, Directors of Christian Education, pastors -- anyone interested in an economical preview of this exciting new study program.

First Persons by Ronn Kerr is a totally new concept in a study program for adults and older youth. Each of the thirteen weekly lessons evolves around a Biblically-accurate story of a person living in New Testament times who witnessed an event in the life of Jesus. A shepherd boy who was at the birth cave. A magi's apprentice. A wine merchant who saw the baptism of Jesus. The wife of a potter in Nazareth who saw Jesus get thrown out of the synagogue. A fisherman who witnessed the call of Peter, Andrew, James, and John. The wine steward at Cana. The sister of an adulterous woman. The centurian at the cross. And others.

Each story is Biblically-accurate, based on specific Scripture references for study, and filled with detail about life in First Century Palestine. Students not only learn about the particular event in the life of Jesus, they learn how the people of his time lived and played and worked and worshiped. And, most important, they get more deeply involved in study of the Biblical text than with traditional Bible studies.

Most important, because the stories are powerful accounts filled with drama, humor and descriptive detail, students really enjoy reading and preparing for class sessions more than with traditional Biblical studies. In fact, in test classes, "I really enjoyed reading for the class!" was the most common response.

The extensive 100-page Leader's Guide is loose-leaf and 3-hole punched so that it can be easily distributed to various session leaders without having to make sure the Leader's Guide gets to the right person every week. The Leader's Guide contains scholarly Biblical background material, leadership suggestions, and creative discussion starters tied to each story.

This thirteen-week course is a perfect substitute for those quarters when dated studies like the International Lesson Series just don't work. When that time comes, try First Persons and then return to the dated studies the next quarter.
Availability: Usually ships the next business day.
There are no reviews for this product.
---