First Persons LEADER'S GUIDE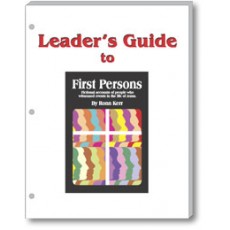 CLICK THE "RELATED PRODUCTS" TAB ABOVE TO SEE ALL OF THE RESOURCES IN THE FIRST PERSONS STUDY

Click here to view or download a sample chapter of the First Persons STUDENT BOOK
Click here to view or download a sample chapter of the First Persons LEADER'S GUIDE
A comprehensive 100-page Leader's Guide to the popular First Persons Student Book (Order No. 324). Loose-leaf, 3-hole punch format allows different chapters to be separated for distribution to different instructors. Each chapter contains substantive background information, many Biblical references, and a variety of teaching suggestions and discussion starters. With this extensive leader's guide, the first person stories in the Student Book become platforms from which students are launched into comprehensive and meaningful Bible study.

Availability: Usually ships the next business day.
There are no reviews for this product.
---